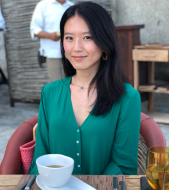 Hi!
My name is Angela, and I am a UX/UI designer based in Irvine, CA.
Currently at MSC Software, I design 3D exps for an enterprise desktop application called Apex, as well as other enterprise web applications.
Prior to my design career, I studied math at UC Berkeley. Writing proofs felt like storytelling, and I really enjoyed it. As a designer, I continue to tell stories in my design specifications by taking the reader through my problem solving journey. It is always so fascinating and fulfilling to see how my solutions solve real world problems.
Outside of work, I have various hobbies. I play the piano, I paint and draw, I snowboard, and I drink lots of good beers. I also love to travel and meet new people!